BitScope Mini Oscilloscope Probe Adapter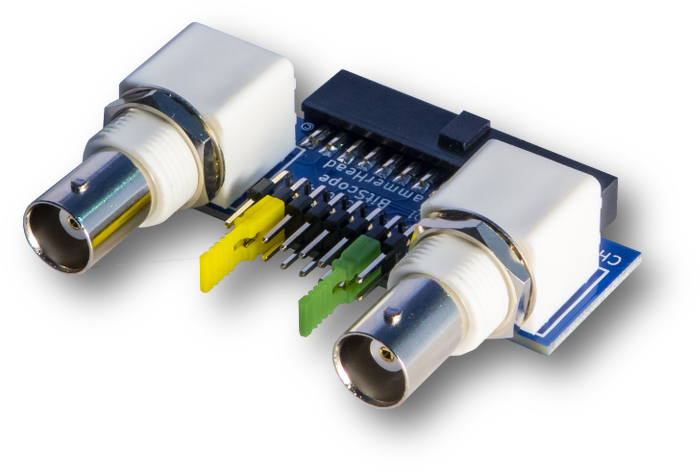 BitScope SP01 is dual channel mixed signal BNC adapter for BitScope Mini. It connects standard oscilloscope probes.
Supports Standard Oscilloscope Probes.
Attenuating, Differential & Current Probes.
Connects BNC Terminated Coaxial Cables.
Terminators and Adjustable Signal Routing.
Twisted Pairs for Logic Inputs & Outputs.
Additional Twisted Pairs for Analog Inputs.
Dedicated Logic Channel Inputs (L3..L0).
Shared Comparator Channels (CHA/L7,CHB/L6).
Switchable Waveform Generator (AWG/L4).
Switchable Clock Generator (CLK/L5).
We call it BitScope Hammerhead: a universal I/O adapter for BitScope Mini.

In addition to the two BNC connectors, SP01 includes a 16-pin socket and a pair of terminators for connection to all of the BitScope inputs and outputs.
It plugs into BitScope's Smart Interface (via the IDC-26) so the signals and features of the smart interface remain available when accessed via SP01.
Use Standard Scope Probes with BitScope Mini!
SP01 makes it possible to use standard oscilloscope probes with BitScope Mini.
Passive probes that have 1:1, 10:1, 100:1 or other attenuation ratios can be used.
It also supports active differential probes, current probes and most other types of probe which are BNC terminated and designed for use with standard scope inputs.
This is possible because despite its tiny size and appearance, BitScope Mini has electrically compatible analog inputs with 1MΩ/20pF impedance so compensation circuits in standard probes will work the same with BitScope Mini and SP01.
Coaxial Cables and BNC Connections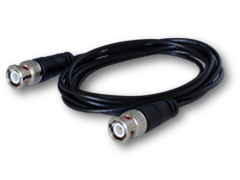 SP01 is not just for oscilloscope probes. It also allows the use use BNC terminated cables for connection with other equipment that uses this common standard. This makes SP01 ideal for data acquistion and related applications where RG-58 cabling with BNC termination is commonly used. If an application requires 50Ω termination, pass-through terminators like PAC-01 are available.
Twisted Pair Mixed Signal Connections
In addition to the BNC connected analog inputs, SP01 provides connections for six of BitScope's logic inputs, the two comparators, waveform and clock generator.

This is done via the integrated 16-pin header between the BNC sockets.
Every input and output has an associated ground pin located directly below it which allows the use of twisted pairs for low noise connection to circuits under test.
This is especially useful when working at the very low levels supported by BitScope's Macro Mode.
Bench, Lab or Rack Mount
Coming soon are some mounting and case design ideas for SP01. The BNC sockets are supplied with ring nuts and washers so SP01 can be permanently mounted (with appropriate metalwork) and BitScope Mini plugged in as and when required.