2012-02-24
DSO 2.5 | Perseus "Act on Touch" release | CB20A
This major update adds three exciting new features to DSO, compatible with all current BitScopes.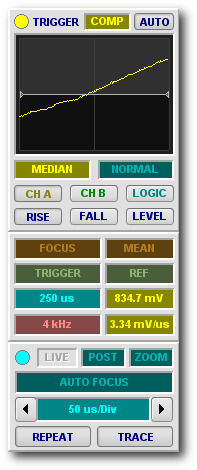 Act on Touch Interface (ATI)
Focused Zoom Timebase Control
Automated Waveform Measurements
It is the first major step towards our goal to support touch-screen devices based on Windows Touch, Android and iOS.
Act on Touch Interface
Our new Act on Touch Interface now means you can simply click, drag or select any parameter using your finger (on a touch-screen device) or the mouse (on a PC or Macintosh) to change its value or select a related function.
Shown on the right are three control panels that use ATI.
Dynamic Trigger Control (top)
Cursor Measurement Control (middle)
Zoom Timebase Control (bottom)
Using ATI is easy. Click and drag up/down or left/right on any parameters to adjust its value. Click on the left or right edge of the parameter to select the previous or next parameter value. Right-click (or control-click on a Mac) to pop up a menu for the parameter and double-click the parameter open a value editor to type in a specific value or select a default value.
Collectively we call these UI interractions Acton Gestures.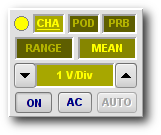 They apply to trigger, preview and main waveform displays too. Many objects on a display can be clicked and/or dragged to change location or value. For example, the trigger level can be adjusted by moving the trigger cursor and measurement cursors or waveform feature bands on the main display can be moved to make various measurements.
The analog channel control panels are also now simpler, smaller and easier to use thanks to ATI as can be seen on the left.
There are lots of other changes and improvements in this release, especially relating the timebase, automated waveform measurement and feature tracking tools and mixed/logic capture. We're busy updating the DSO manual to describe all these new features in detail and we'll publish this soon.
Until then, the DSO 2.2 manual still provides useful information to get you started so in the interim please just click, drag and select on any parameter and see what happens. All parameter changes are immediate and real-time: you will see the result on the display as soon as you change them.
We value your feedback, it helps us improve this software, so please email dso@bitscope.com with any bug reports or questions you have.