2006-11-03
BitScope Product Review

Silicon Chip Magazine, Australia's world class electronics magazine, has conducted an independent review of BitScope BS310U and the new BitScope DSO software for their November 2006 edition.
If you're in Australia, you can pick up a copy at most newsagents now.
Silicon Chip is aimed at professionals, trades people and enthusiasts in the electronics, electrical, computer and related fields. Each month they add to their huge collection of electronics projects and articles which are now all available globally via online subscription.
You can download a PDF copy of the review Silicon Chip have kindly sent us here.
---
2006-10-13
DSO Version 1.3 Online Guide

The Online Guide has been completely updated for DSO Version 1.3.
We've also added an interactive offline replay DSO Tutorial.
In addition to Replay and Export features announced already, this new release includes user interface improvements such as auto range, normalize, input offset control and channel calibration.
There are also numerous small changes like context menus for fast parameter entry, live waveform generator previews, intelligent parameter "toggle on click" as well as various small bug fixes.
To upgrade to DSO Version 1.3, simply download the archive, unpack and install.
---
2006-10-01
BitScope DSO Version 1.3 Release

Using the newly released DSO Data Recorder Version 1.3 it is now possible replay, inspect and analyse waveforms and logic previously captured with BitScope on a PC which has no BitScope connected.
It's ideal for sharing information with colleagues, students or customers.
Send data recordings as DDR files to others and they can replay and analyse them "live". It's as if your BitScope is connected to their PC.
Alternatively use your own reference recordings for comparison or benchmarking new test results.
Export your data as images and embed them in word or other documents, post them on the web or send them as email attachments. You can even sequence exported images to create animations.
Download DSO Version 1.3 and try it yourself. We've posted a set of example files to explore.
For what you can expect to see, check out Display Export and the offline replay DSO tutorial.
---
2006-08-01
Network BitScope 442 Release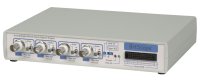 Meet the new 4 + 8 channel BS442N Network BitScope.
This brand new BitScope replaces BS440N as our top of the range 12 channel networked MSO and Data Acquisition System.
Like other network models it is fully isolated and networked which means you can use it in the same room on a local network or half way around the world via the Internet.
Updated BitScope DSO software is included supporting the additional channels and new features.
---

2006-05-25
The BitScope DSO Data Recorder is now available for BS10.
You can now use this diminutive BitScope in PC based Data Acquistion just like its larger brethren.
About the same size and weight as a Pocket PC, the USB powered BS10 needs no bulky accessories. With the same mixed signal, analog and logic capture capabilities as all BitScopes, BS10 sets the standard for portable PC based test gear.
---

2006-03-24
The BitScope DSO Data Recorder (DDR) is now in production release !
Whether saving a single waveform to disk or logging frames continuously 24x7, DDR is the tool for the job and now it's a standard part of BitScope DSO.
DDR listens to all enabled channels, recording waveform and logic data to a buffer or files. DDR files may be loaded for replay and comparison with new data or reviewed with another BitScope DSO or even loaded into a numerical analysis tools like Microsoft Excel or Mathworks MatLab.
DDR works with all current BitScopes and may be downloaded as part of the latest DSO release.
---