2013-12-04
Powerhouse ThinkSpace Digital Learning
Recently we exhibited BitScope Ed at the Sydney Mini Maker Faire hosted by Powerhouse Museum.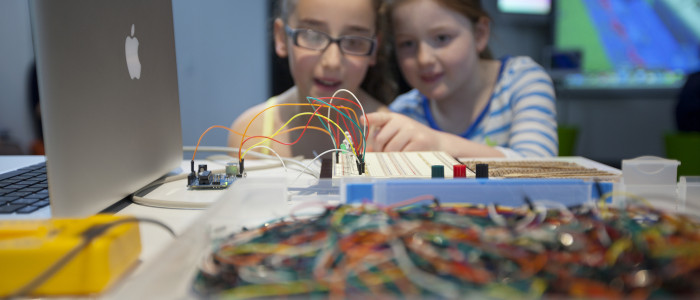 We previously posted a review of the mini maker faire but we were very impressed with the Powerhouse Thinkspace Digital Learning Centre and Thinker1 Arduino prototyping board.
Thinkspace offers "learn by making" workshops in applied arts and sciences with various programs designed for school children, families, teachers, professionals and people with a disability. Thinkspace learning experiences are engaging, interactive and 100% hands-on. They are very good examples of project based learning in action.
They have a range of workshops based on Raspberry Pi using MIT Scratch and Python among others. Our particular interest is in the use of computer programming and electronics combined with BitScope to create engaging learning projects so we we're very interested in Thinker1.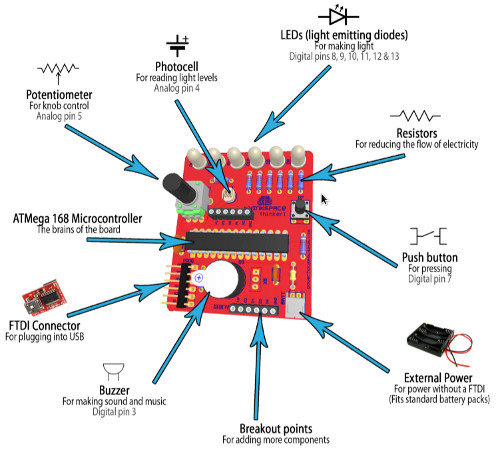 Thinker1 Prototyping
Thinker1 is a low cost Arduino based project board with a clever selection of components designed to provide a range of useful inputs and outputs in a compact single board design all under user program control.
Combined with BitScope it forms the basis for a comprehensive system for project based learning suitable for primary school aged students and up. Add in breadboard electronics like BreadBoard One and it can be used to teach mixed signal electronics in a very engaging way.
Thinkspace have a set of worksheets for Thinker1 which may be download as a resource pack free of charge.
Thinker1 is an Arduino based system so it provides the standard set of Arduino I/O. It can be used for more sophisticated applications as students progress in their learning. We're now working with ThinkSpace to explore these possibilities further.