2013-11-12
BitScope DSO, Logic, Chart, Meter and Library updated
Changes in the Linux kernel that have appeared in recent editions of Ubuntu and Fedora caused problems for these applications when used with some model USB BitScopes. These included BS300, BS310, BS50 and some BS1xx models. This update addresses these issues. If you use Ubuntu or Fedora and run into trouble with one of these models please upgrade to the latest production release. Windows, Mac and Raspberry Pi are unaffected.
2013-11-06
Logic 1.2.DJ20B Mac OS X Maverics, Sydney & Linux 3.8+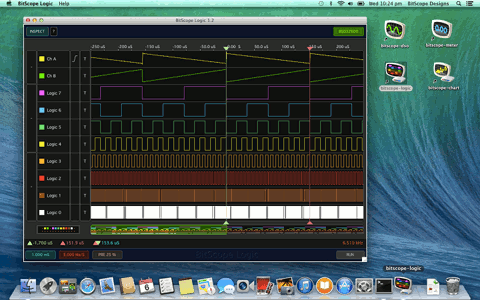 Apple released Mavericks recently so we've been working to ensure our software remains compatible. This update makes some changes required to avoid a bugs we found when older versions were run in Mavericks. It also fixes a bug reported when some USB BitScope models are used with Fedora 19 or Ubuntu 13.10 Linux. These include BS300, BS301, BS310, BS50 and BS320. Some early editions of BS100 and BS120 may also be affected. If you have difficulties connecting with a Linux system which uses the kernel revision 3.8 or later and you have reviewed our USB troubleshooting guide to ensure it's not a different issue, we recommend you upgrade to this release.
2013-06-01
Logic 1.2.DE17C Mac OS X Mountain Lion Release
BitScope Logic now works with the latest Mac OS X as part of our Mountain Lion Update.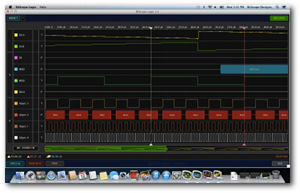 If you were using an older version you may have noticed Apple's recent Mountain Lion update prevented access to some network model BitScopes including Sydney.
This has been fixed in this release. To install simply download the update and drag the app to your Applications folder.
This release is significantly faster due the use of the a new link driver so we've updated for Windows and Linux too. The driver is activated by default for Linux and Mac OS X and can be manually enabled via the FTDI device properties for the USB device created by Windows when a USB BitScope is first connected by reducing the USB latency timer setting to 2ms.
2013-04-29
Logic 1.1.DC01K Device Detection and Simulation
Logic now detects connected USB BitScopes automatically. If only one device is connected, Logic uses it automatically. Logic also includes simulations for all 22 supported BitScope models which will allow previously captured data to be replayed without the need for a physically connected device. This update also fixes a number of bugs reported when used with some Windows editions, notably XP. If you experienced problems using repeat capture, we recommend you upgrade.
2013-04-23
Logic 1.1.DC01J Failed Link Recovery
Logic is now capable of recovering a failed connection to the BitScope automatically. This means that once connected with a BitScope, Logic remains connected until it is powered off even if the BitScope is disconnected from the PC. Put another way, Logic remembers the complete BitScope state so if accidentally unplugged or if USB drops out (e.g. because the PC sleeps), Logic will reconnect and restore the BitScope to exactly the same state and continue operating. Owners of older non-isolated USB BitScope models should find this feature very handy; inductive spikes or other sources of EMI that may have in the past terminated the USB connection requiring the BitScope and Logic to be restarted now barely cause a hiccup in normal operation.
2013-04-18
Logic 1.1.DC01H Stale Data Fix
This update fixes a bug found to affect some BitScope models including recent BS10 revisions. If you find that analog channel A does not update when you click Run but it does update when you click Run again, we recommend you update to this version.
2013-04-02
Logic 1.1.DC01G Windows Bug Fix
This update fixes a bug in some Windows installations. If an alert appears reporting "File not open" when you start Logic you should install this update. Linux systems and "clean" Windows system are unaffected by this bug so if you don't see this error you don't need to update.
2013-03-17
Logic 1.1.DC01F Minor Update
This update migrates Logic to the forthcoming BitLib V2.0 (as used by DSO 2.5). This offers much faster performance in many situations and enables Logic to support 22 BitScope Models.
2012-07-25
Logic 1.1.CG25A Windows and Linux 64 bit Release
This release introduces 64-bit versions for Windows 7 and most 64-bit Linux distributions.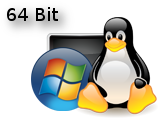 This update has been made possible with the release of the new BitScope Library also available as a 64-bit native release. If you are running Windows 7/64 or 64 bit versions of Ubuntu, Debian, Mint, Fedora, RedHat or other 64 bit Linux distributions we recommend you upgrade to the 64 bit version of DSO.
We've also fixed bugs caused by Ubuntu's adoption of overlay scrollbars as part of their "touch ready" Unity Interface. Logic now runs without the need for the tweaks reported for DSO at BK04D
2012-05-23
Logic 1.1.CC02B Minor Update
This update is for owners of legacy models BS50, BS300, BS310, BS311 and BS320. It fixes a bug which prevented these models from connecting or which prevented the correct sample rates from being selected. If you have a current model you probably don't need to update (but you can :-).
2012-05-01
Logic 1.1.CC02A HAL Compatibilty Update
This update adds the hardware abstraction layer (HAL) used by DSO 2.5 to BitScope Logic.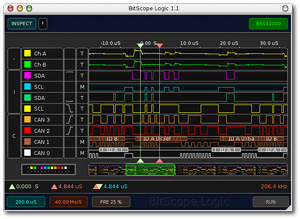 It effectively replaces the driver layer in Logic to ensure compatibility with new firmware revisions of BS10 as well as older model BitScopes such as BS50U which previously did not work with Logic.
Thanks to everyone who reported bugs and offered suggestions based on the previous release; Logic capture now uses the high speed ("hair trigger") mode of BS10. Slow connection with the BS1xx models has been fixed and some other system compatibility bugs have also been fixed.
Please email support@bitscope.com with bug reports or questions. More updates coming soon as we add new requested features including individual channel enables, analog range control and more protocol decoders.