DSO 2.3 | Minor Update | BL15D
2012-05-25
This update fixes a bug which could result in application expiry. This update fixes this problem.
2011-11-16
DSO 2.5 | Stateful "Hold Me Tight" release | BK11F
This update activates the new Perseus Device Manager which holds on to BitScope very tightly.
This means that once DSO connects with a BitScope it remains connected until DSO is powered off even if the BitScope is disconnected from the PC. Put another way, DSO remembers the complete BitScope state so if accidentally unplugged or if USB drops out (e.g. because the PC sleeps), DSO will reconnect and restore the BitScope to exactly the same state and continue operating.
Owners of older non-isolated USB BitScope models should find this feature very handy; inductive spikes or other sources of EMI that may have in the past terminated the USB connection requiring the BitScope and DSO to be restarted now barely cause a hiccup in normal operation.
Connection management has also been automated; it is now not necessary to configure the DSO. Simply connect the BitScope and power up DSO and you're good to go. DSO SETUP is still available if you have multiple BitScopes or if your PC fails to detect the BitScope properly.
Please email dso@bitscope.com with bug reports or questions.
---
DSO 2.3 | Pegasus Release | BL15C
2011-12-15
This production update includes all the fixes and updates made during DSO 2.3 development.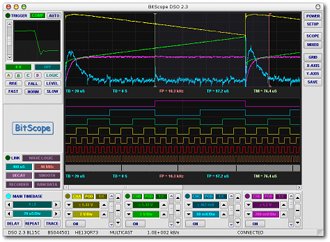 It uses a similar user interface to DSO version 2.2 with some minor tweaks and improvements.
We've also back ported some of the new features from 2.5 (Perseus) development version such as the hold me tight USB connection persistence and automatic detection of connected BitScopes.
A number of reported bugs are fixed and some elements of the user interface are simplified and improved.
Logic traces now use the same multi-colour scheme as BitScope Logic and DSO 2.3 can now share a connection to a Network BitScope with BitScope Logic.
DSO 2.3 is available for Windows and Linux. It is compatible with all BitScopes except BS10. Macintosh and BS10 owners should use DSO 2.4 (on CD-ROM) or DSO 2.5.
2011-11-11
DSO 2.5 | Perseus Windows, Linux & Mac | BK04D
This update fixes a problem with the DMG image (for Mac OS X 10.7, Lion). If you could not install the BH21A release on Lion, please use this update which fixes the problem.
We've includes a partial fix for problems running on Ubuntu 11.04 and later (caused by Ubuntu's recent adoption of Overlay ScrollBars). This update addresses this problem but if you still have difficulty you can run DSO in an xterm to avoid the issue as:
$ LIBOVERLAY_SCROLLBAR=0 bitscope-dso
2011-10-31
DSO 2.5 | Perseus Windows, Linux & Mac | BH21A
This update adds support for Intel Macs running OS X 10.7 (Lion) in addition to 10.6 (Snow Leopard) and 10.5 (Leopard). It also brings DSO 2.5 to Windows (XP & 7) and Linux for the first time.
All versions are native applications for their respective platforms. The Mac version has built-in help and the DMG image includes the USB driver if your Mac does not have installed already.
2011-08-17
DSO 2.5 | Perseus Mac OS X (beta) | BH17A
This update adds support for Intel Macs running OS X 10.5 (Leopard) and 10.6 (Snow Leopard).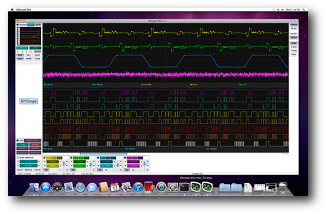 It implements the complete BitScope DSO application for Macintosh as a native app.
It is compatible with all new BitScopes and should also work with older models including BS50, BS300, and BS310.
Ethernet connected BitScopes will work without requiring the installation of any additional software or drivers.
USB BitScopes require the installation of the FTDI VCP driver (if it's not already installed on your Mac). Download VCP.
This is the first Intel Mac compatible DSO beta release so it may contain new bugs.
Please email dso@bitscope.com if you run into difficulty.
---
DSO 2.2 | maintenance update | BD18D | CD-ROM Only
2011-08-03
Adds support for new model firmware revisions in BS12x and BS32x series.
Includes back-ports of some new features from Pegasus stream.
2011-06-01
DSO 2.3 | Pegasus RC1 | BD18D
This is the first production release candidate for DSO 2.3 (code named "Pegasus"). It fixes many bugs in previous releases and introduces some new features planned for the production release.
It should be stable enough for general use but it is beta software and has some known bugs. The production release (derived from this version) is due in September (later than we'd planned but keep those bug reports coming, they've been very helpful!).
As with all beta releases, this version has built-in expiry (2011-11-30) so we don't recommend it for production environments. Instead use the current production release which never expires.
2011-05-01
DSO 2.3 | bugfix update | BC25A
This minor update fixes several bugs affecting DSO's file management in Windows. In particular probe file management has been improved when DSO used with multiple BitScopes from one PC.
This version has built-in expiry (2011-06-30) so we don't recommend it for production environments. Instead use the production release which never expires.
---
DSO 2.2 | maintenance update | AK08C | CD-ROM Only
2011-02-28
Adds support for BS044202 firmware upgrades.
Fixes several bugs when used with the newer BS032602 models.
2010-11-20
DSO 2.3 | Pegasus BS442N Rev 2 | AK08C
This DSO update supports the Rev 2 upgrade of the 12 channel BS442N BitScope.
The firmware in recent versions of BS442N supports a range of new features including slow clock pre-trigger capture, sub-sampling sample rates, streaming data capture and multi-band spectrum analysis.
This DSO update adds support for all of these new features. If you own an original BS442N (prefix BS44200) we offer a factory upgrade service, email support@bitscope.com.
This update also fixes a a number of bugs reported against older models including BS50, BS300, and BS310. If you have experienced any problems using mixed signal capture at slow timebase values on these models we recommend you upgrade.
2010-10-19
DSO 2.3 | Pegasus BS120U Update | AI08E
This the parallel release development version of BitScope DSO in support of the new BS120U.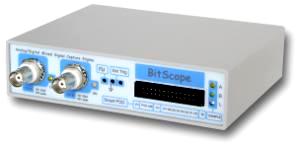 Numerous bugs are fixed in this release and scan and waveform generator support is now extended to BS120U. The clock and trigger system in this version is also brand new so there may be a few timing related bugs.
We welcome your feedback on this version as we move towards the 2.3 production release due towards the end of the year.
This version has built-in expiry (2010-12-31) so we don't recommend it for a production environment; instead use the production release because it never expires.
---
DSO 2.2 | BS120U Release | AI08E
2010-10-19
This update adds full support for the newest member of the BitScope family, BS120U.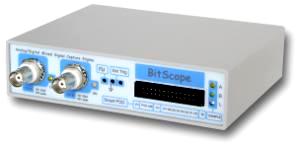 It's a new unified cross-platform release so it will work with all recent models as well as most not so recent models.
The release includes a range of bug fixes and performance improvements ported from the development series. See the fixes file in the release archive for details.
This release is now included on CD-ROM with new BitScopes but check back here from time to time for updates for the latest features.
If you want to try new features and don't mind a few bugs, you can try the development version.
2010-03-16
DSO 2.3 | Pegasus Update | Build AC05F
This update is the second beta release in the Pegasus DSO development series.
It fixes many capture and display bugs found in AB25J (reported by beta testers, thank-you!).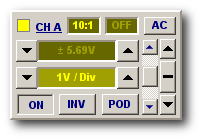 We recommend upgrade to this new version for all users:
The timebase parameter now reports S/Div and the timebase ranges have been extended to support the capabilities of some BitScopes (BS325 and BS442N).
The channel control panel reports V/Div and the input range shows ± explicitly as shown here.
This release also fixes all known FUBAB level bugs; i.e. bugs that cause the DSO to crash, abort or otherwise stop working.
If you find a new way to crash this version in normal usage, please tell us how to do it!
2010-03-03
DSO 2.3 | Pegasus Development Version | Initial Release
DSO 2.3 (code named Pegasus) is the first release in the new DSO development series.
It is derived from the production version and is compatible with it. This initial release is focused on low speed acquisition:
Adds new SCAN virtual instrument for unlimited duration waveform capture and optional recording.
Frame based data capture from 50Hz down to 0.1Hz.
Improved slow timebase AUTO triggered data capture.
Many bugs reported in production version are fixed in Pegasus. See download packages for details. These fixes will be folded back into a production release eventually but if you can't wait try using Pegasus and let us know how you go.
For general operating information please refer to the production release online user guide.
2005-10-18
DSO 1.2.1 inc. DDR + WIDE Release Candidate
This releases adds the DSO Data Recorder (aka DDR) to the DSO.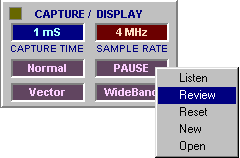 The DDR supports analog waveform and logic data export and import.
It (optionally) listens to enabled capture channels saving waveform and logic data to an internal buffer or a user selected DDR file. Files created with the DDR may be reloaded for subsequent replay and comparison with new waveform capture. Files captured on one BitScope may be reloaded for playback, review or analysis on another.
As DDR files are encoded in the ubiquitious CSV file format they may be opened in standard spreadsheets (eg, Excel) or numerical analysis tools such as MatLab. These tools may also be used to synthesize new waveforms to be replayed in the DSO or loaded to BitScope's hardware waveform generator for live replay (on models that support AWG).
Documentation for DDR is in the works and coming soon. To get started simply click on the word "Reset" on the CAPTURE / DISPLAY panel. This enables the DDR "listen mode" which buffers captured data. Click it again to stop listening, and again to review (ie, replay) the DDR buffer.
Right-click the DDR display to pop-up a menu to access the other DDR commands. Commands include Listen, Review, Pause, Record, Play, Stop, New, Open, Append, Close and Reset. Not all commands appear in the menu at all times, it depend on the state of the recorder.
The other new feature of this release is the Waveform Intuitive Display Engine (aka WIDE).
Designed for speed and "intuitive" waveform and logic display, WIDE updates rendered waveforms and logic traces immediately any capture parameters such as timebase or capture mode are changed, even if no new data is captured, to show it correctly in the new context.
The new engine is also accelerated; using both a waveform cache and faster rendering algorithms it is capable of (re)processing waveform and logic data (in response to parameter changes) very quickly. This makes measurement using scolling, zooming and rescaling waveform and spectrum displays in conjunction the cursors fast and easy.
Bugs reported in previous (unannounced) releases are also now fixed.
For full details see the bug fixes file in the distribution archive.
2005-03-17 Version 1.2 Beta Release (05031008)
This interim update fixes a number of recently diagnosed bugs, mostly for Windows systems.
About November last year we started receiving reports of stability and performance problems from some users of Windows 2000 and Windows XP who previously had no problems.
After a lengthy investigation we found several new errors in the low level USB and sometimes RS-232 serial drivers in these versions of Windows which appeared if certain Microsoft security patches and/or Windows Updates were installed. We also found that PCs running Windows XP Service Pack 2 were sometimes affected.
This update fixes these problems by changing the way DSO uses COM ports (both real RS-232 COM ports in the case of Windows 2000, and VCP USB COM ports for both Windows versions).
This release does not include the forthcoming new features; data export, pre-trigger view and waveform preview. We've held these new features over pending more testing while we sorted out the Windows related communications issues fixed in this release.
However, this update does include many other fixes for bugs reported since the December release and partially introduces a number of new features that will form a part of the final production release including multi-coloured logic traces, pop-up menu control of many parameters and layout changes designed to make it easier to access the features most commonly used.
As always please email us if you find problems and in this case we're particularly interested to know if you still have stablity or USB communications problems after installing this release.
IMPORTANT: you must have FTDI's latest drivers installed for this release to work properly.
2004-12-10 Version 1.2 Beta Release (04120801)
We've fixed quite a few subtle and some not so subtle bugs found in previous releases including several issues relating to one-shot captures, timebase controls and general usability issues. Please read the BugFixes file in the distribution archive for full details and email us if you find anything we've missed.
We've now commenced integration testing of the following new features which we plan to include in the next release due before January:
Data export - CSV export of one-shot captured data suitable for use in other applications such as spreadsheets and data analysis tools.
Pre-trigger capture - scrollable waveform and/or logic display before the trigger in certain modes. This is particularly useful in logic analysis and storage scope applications.
Waveform preview - waveform generator preview display to be activated for thumbnail views of waveforms being produced when AWG is enabled.
There are a few other known issues and planned features (see the Bug file in the archive) which we hope to have completed for this next release as well.
2004-11-03 Version 1.2 Beta Release (04102802)
This release significantly improves USB performance. With a new USB driver and improvements to the DSO itself, problems affecting some users where display refresh speed was slower than expected have been resolved. See the FIX.txt file in the release archive for details.
Other changes in this release include speed improvements to the waveform generator (uploads are now much faster), x1000 probe scaling has been added, voltage cursor reset is now supported and various other bugs and issues have been fixed.
2004-09-16 Version 1.2 Beta Release (04091601)
For BS44x users this build fixes a display update problem when used with these 4 channel scopes.
Also, a subtle but confusing state machine sequencing error is fixed (any model BitScope). It should not now be possible to end up with the DSO apparently working but no display updates occuring. Our thanks to those users who spotted this one and worked out how to reproduce it !
2004-09-09 Version 1.2 Beta Release (04090901)
With this build we introduce voltage cursors, simplified timebase and delay controls and a range of bug fixes (thanks for the reports !). We have implemented true voltage measurement cursors not horizontal screen cursors.
In a nutshell this means that you can make more accurate measurements on a single channel, take measurements from one channel and make comparisons with another and mark reference voltages which remain as you set them regardless of how you choose to view the waveforms on screen.
Magnitude cursors are partially enabled. They work but they don't report spectrum magnitude yet.
2004-08-31 Version 1.2 Beta Release (04083001)
We have been quietly releasing updates over the past few months with fixes for bugs reported by our beta testers. We plan a few more before heading into the production prerelease phase.
DSO 1.2 now supports all the new features of the new BitScope models BS50U and BS310U while maintaining backward compatibility with all older models as far back as BS120. Please let us know if you have an older model which does not work correctly with this release !
Subject to testing we expect the RC release series to start in a week or so in the lead up to the production release in late September. If you try it out, let us know how you go !
2004-04-29 Version 1.2 Beta Release (04042901)
This is the first public beta release of DSO 1.2. It supports the built-in waveform generator (BS300 only; flip the front panel "WaveForm Generator" switch on and click the AWG button at the top right of the DSO application). The other new features of 1.2 (data export, screen dump, cursors etc) are not included in this build and there is no documentation for it yet.
2004-02-24 Version 1.1 Maintenance Rebuild (04022401)
This maintenance release fixes a subtle display problem in LOGIC mode at 5uS and slower and extends the timebase ALT and CHOP ranges (at the slow end of the scale). It is now possible to perform captures as long as 4S (ALT mode) and 100S (CHOP mode) if you can wait that long :-)
2004-02-16 Version 1.1 Released
DSO production release 1.1 is now available.
2004-02-10 Version 1.1 Release Candidate #4 Rebuild (04021001)
We've rebuilt this latest release. The original was unoptimized and had some incorrect initialization. If you're having trouble with 1.1 RC4 (particularly on older PCs) grab a copy of the new build.
2004-02-06 Version 1.1 Release Candidate #4
Several subtle but potentially confusing trigger related bugs have been fixed. Timebase expansion now operates about the centre of the display (not the trigger point). Support for ALT buffers as been included (for BS300). Waveform ghosting is added to indicate when data is no longer live.
This is the last 1.1 RC release to include new features. Subject to any necessary bug fixes it will be renamed production version 1.1 in about a week, replacing DSO 1.0.
In related news, DSO 1.2 is nearly out of beta and the 1.2 RC release series will commence with the rollout of a range of new features over the next month or so.
2004-01-22 Version 1.1 Release Candidate #3
Thanks for all the feedback ! We've fixed the floating point and range errors in the new spectrum analyzer so this version is much more stable the previous release. Included also are numerous subtle fixes as well as improvements to the handling of input offsets.
2004-01-05 Version 1.1 Release Candidate #2
This update fixes a problem with Win2k and some Linux distributions where application buttons can "go missing" and some font sizes are incorrect. In some cases this prevented cursors being activated (the cursor button went missing). Other minor bugs and issues have also been resolved.
2003-12-23 Version 1.1 Release Candidate #1
Many thanks to our beta testers. This first 1.1 release candidate is now out of beta test and includes the new DFT based integrated spectrum analyzer with multi-resolution power, phase and mixed displays, time cursors for highly accurate analog and logic time, period and delay measurement, frequency cursors for frequency and bandwidth measurement and numerous bug fixes.
2003-10-16 Online User Guide
The BitScope DSO User Guide is now online.
2003-10-14 Version 1.0 Released
DSO production release 1.0 is now available. Download it here !
2003-09-26 DSO Beta Release P4
We've fixed many of the bugs found in P1 through P3. Check FIX.txt in the archive for details.
2003-09-12 DSO Beta Release P1
Our thanks to everyone who provided their valuable feedback on the preview releases.
---
DSO 2.2 | maintenance update | AF22A
2010-06-23
This update fixes a few bugs when used with older model BitScopes.
If you've not encountered any problems you probably don't need to upgrade.
---
DSO 2.2 | maintenance release | AE19A
2010-05-20
This maintenance update fixes a range of bugs reported in DSO 2.2 9K11D and earlier.
If you are using an earlier release and you run into trouble we recommend you upgrade.
---
DSO 2.2 | serial I/O fix | 9K11D
2009-12-13
This update fixes a bug which prevented communication with older serial BitScope models.
If you have one of these models (i.e. BS300S or earlier) grab this or a later DSO release.
Be sure to choose SERIAL via SETUP (i.e. not USB) even if you're using a USB/Serial adapter.
---
DSO 2.2 | Unified Cross-Platform Release
2009-11-10
This major update is the first unified DSO release. It is compatible with all recent BitScope models.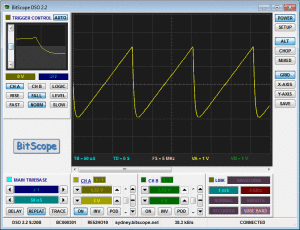 It is cross-platform running on Windows 7, 8 and popular Linux distributions including Debian, Ubuntu, Fedora, RedHat, SuSe and Mandrake.
An update supporting Mac OSX is coming (check development page for news).
DSO 2.2 is theme aware so its appearance depends on your operating system but its operation is the same on all systems.
The DSO does not use multiple windows, pull-down menus or complicated dialogs.
Instead it is operated via a single control panel, just like a real test instrument with buttons, controls and parameter displays.
It works on anything from on a high resolution PC Workstation to a low cost portable Netbook and is very fast to use. Everything you need to know is always shown live on screen and all you need to do is adjust the controls.
This release also includes a complete online user guide comprehensively updated to cover all the new features available in this new version. It may be downloaded free of charge here.
---
DSO 2.1.1 | BS325 Release | CD-ROM Only
2009-09-01
This release adds support for some of the features of the new BS325 models.
---
DSO 2.1 | DWG100 Release | CD-ROM Only
2008-10-01
This release supports the features of the new DWG100 waveform generator option.
---
DSO 2.0.1 | BS442 Release | CD-ROM Only
2008-03-07
This release supports new spectrum analysis modes for BS442.
---
DSO 2.0 | BS100 Release | CD-ROM Only
2007-10-01
This release supports the features of the new BS100U model.
---
DSO 1.4 | BS311 Release | CD-ROM Only
2007-04-10
This release enables new features found in the BS311 firmware update for to BS310 models.
---
DSO 1.3 | Offline Replay and Display Export
2006-10-01
This major release introduces new features for data sharing and analysis, especially useful in collaborative or educational environments.

It also includes user interface improvements such as auto range, normalize, input offset control and channel calibration.
And there are many small changes like context menus for fast parameter entry, live waveform generator previews, intelligent parameter "toggle on click" as well as various small bug fixes.
However the most significant new feature is Offline Replay.
It is now possible to use BitScope DSO on a PC without a BitScope.
This means you can replay, inspect and analyse waveforms, logic and spectra previously captured with BitScope, or otherwise synthesized, on a PC which has no BitScope connected.
The DSO is able to do this because DDR can now effectively emulate any BitScope.
By sharing DDR files with colleagues, students or customers you can now communicate precise analyses and flexible reference information for comparison with their own test results.
The second new and related feature is Display Export.
With the click of a button you can now save the DSO display to a file for use with Word or other documents, the web or sent as email attachments. It is even possible to replay a DDR file and save the displays derived from it, all without a BitScope connected.
Download this release to try it on your own PC. It's free of charge.
Visit the offline replay DSO Tutorial page to find a range of interesting example files.
As always, please email us any feedback you have about this software.
---
2006-03-24
DSO 1.2.1 | DDR+WIDE Production Release
After extensive testing, feedback and bugfixes, the DDR + WIDE release is now available as a standard feature of BitScope DSO.

Our thanks go to all our dedicated users who reported some subtle bugs and made various suggestions. Lots of small improvements have been made in response to your feedback such as pop-up menus on the timebase and zoom controls, "greyed" buttons when the end of a range is reached and user selectable sample rates.
We've fixed a range of bugs including one affecting concurrent waveform generation and capture on some BS3xx model scopes as well as some small display glitches.
The DSO Data Recorder and WIDE display engine are now both standard features of the DSO with this release and a complete DDR Manual is also now available as part of the DSO online guide.
Download the production release here and feel free to email us your feedback !
---
DSO 1.2 | Pre-Trigger Production Release
2005-04-17
Fast clock (up to 40 MS/s) pre-trigger waveform and logic capture is now supported on BitScope models BS300S, BS300U, BS300N, BS310U and BS50U. The position of the trigger is selected from a standard set comprizing 0%, 25%, 50%, 75% and 100% of the capture buffer size:
If set to 0% all capture is post-trigger.
If set to 100% all capture is pre-trigger.
If set in-between, the ratio pre/post is as specified.
The waveform scroll bar (below the main display) operates as before allowing the trigger point to be located anywhere on the display.
The prevailing pre-trigger setting is shown in blue directly below the trigger window (top left of the application). It may be changed by left-clicking (to select the next value) or right-clicking (to pop up a menu to select a value directly).
When set to other than 0% or 100% a vertical grey marker appears on the display to show where the trigger point is in the waveform. If the graticule is enabled it may not be visible (ie, it may be hidden by the graticule). To see it, disable the graticule or scroll the waveform a little.
Pre-trigger capture will be automatically disabled if you choose parameters that are incompatible with it. For example, enabling the delayed timebase disables pre-trigger display. If the device does not support pre-trigger it will be disabled. This applies to early models only: BS120 and BS220. When the pre-trigger is disabled the pre-trigger display widget is "greyed out" it indicate this.
Other features of this release include user selectable capture buffer size and a dramatic increase in display refresh speed, particularly for BS310U. Slow clock timebase operation, analog channel vertical offset control and pre-scale selection have also all been improved and several bugs recently reported by beta testers have been fixed. See the BugFixes.txt file for full details.
Finally, if you have a BS300S, this release includes a fix for a bug that prevented the correct operation of the waveform generator when used with some editions of Windows.
Download this update here and feel free to email us your feedback !