2012-01-01
BS10U | BitScope BS10
BitScope BS10 is a unique new test instrument combining a powerful Mixed Signal Oscilloscope, Protocol Analyzer, Waveform and Clock Generator, Spectrum Analyzer and Data Recorder in one tiny USB powered device.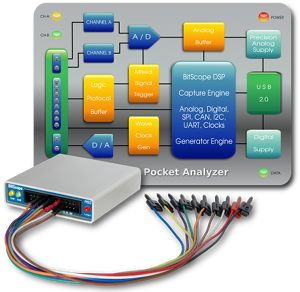 It offers 10 capture channels (2 analog + 8 digital) with 100 MHz analog bandwidth, 40 MSps logic speed and up to 12 bits analog resolution as well several output channels for its signal generators, triggers and external control signals.
BS10 is fast with a frame rate up to 100 Hz driving a digital phosphor display. It works just like a quality stand-alone scope. View waveforms, plots, spectra and more on its smooth flowing real-time screen. Even live capture logic data can be viewed this way.
Alternatively large buffers support high speed one-shot capture with post-capture zoom, scrolling and measurement, or it can stream direct to disk for off-line replay and analysis.
Software is included for Windows, Mac OS X or Linux. Features include mixed signal, storage and sampling oscilloscopes, logic timing, SPI, CAN, I2C and UART packet decoders, a spectrum analyzer, X-Y phase plotter and data recorder. BS10U may be purchased online here.