2000-12-18 Announcing ProtoPOD for BitScope !
ProtoPOD integrates a programmable PIC with a circuit prototyping area. Plug it into BitScope and you have a complete prototyping system, or design your own front-end electronics and use it to build a custom BitScope POD.
ProtoPOD will be available from February, 2001.
2000-12-11 We've just received brand new stock and all back-orders have now been shipped. Thanks for your patience.

If you're considering a purchase pre-Christmas, please make sure you get your order in by Tuesday 19th December !
2000-11-20 Many people ask us whether they have the necessary skills to build a BitScope, or whether they should buy a prebuilt one instead. Well, now you can judge for yourself by reading this detailed BitScope Kit Assembly Guide (PDF 1.5MB). Our thanks to John Pavlick for writing this excellent guide !
2000-09-18 Innovatec's Scopal digital

oscilloscope and logic analyser software is available for download now !
For those BitScope users who have downloaded an earlier version, there have been many new features added recently including FFT support, faster multithreaded data update, and analog and digital data printing to name a few.
2000-09-11 The high speed ADC module is available now for $ 29.95 plus postage. Existing owners of KIT-05 and KIT-03 may upgrade at the special price of $ 19.95 plus postage. Simply include your KIT-05 or KIT-03 invoice number

when ordering the upgrade from sales!
2000-08-14 We've added a new section to the web site with full details of the new 40 MHz ADC Module. We have been so impressed with the TI5540's performance that we've now included the new ADC as standard in KIT-03 and KIT-05. We will be offering upgrade pricing for existing BitScope owners. Read all about it here.
2000-08-07 We've started the somewhat overdue update

of the web site. If what you're seeing does not look like the thumbnail on the right, please email us. We want to make browsing our site accessible, so any feedback is welcome. If you are still using Netscape's broken 4.x browser we recommend you upgrade to Opera 3.5, Netscape 6.0 or Internet Explorer 5.0.
2000-07-31 The ADC is now in full production and the first batch is undergoing soak testing. It will be available for purchase from next week. We plan to update the web-site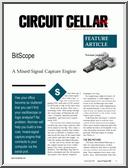 will full details details in about a fortnight.
2000-06-12 Our new high speed ADC module is in pre-production. It is plug-in compatible with the existing ADC socket and will be available shortly.
2000-06-09 For all those people who have been asking about the original BitScope article published in Circuit Cellar. You can download a PDF copy from there.
2000-01-17 We're updating this site shortly with details of several open source BitScope applications you can download and new hardware configurations you can build.