---
BitScope Library Production Releases
---
BitLib 1.4 | maintenance update | AK19C
2011-02-11
This update fixes a range of reported bugs and updates the documentation.
The API remains unchanged so it is safe to upgrade the library for use with existing applications.
---
BitLib 1.4 | BS120U and BitGen Release | AK10B
2010-11-12
This update adds full support for the newest member of the BitScope family, BS120U.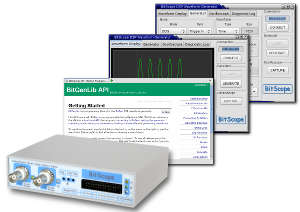 It also introduces support for the BitGen DSP Waveform Generator in BS120U (and BS100U with DWG100) via BitGenLib.
Various bugs reported in earlier version are fixed including input offset calibration and slow clock bugs affecting older models such as BS50 and BS300.
The API is unchanged from earlier builds with the exception of BL_WaveLevel and BL_WaveOffset calls which now return the assigned (possibly constrained) values to make the BS325 AWG easier to use.
The included BitLib applications have been updated and the C/C++ example code amended for easier use with Visual C++.
Feel free to email us at projects with requests, feedback or bug reports relating to this software.
Downloads | W7, Vista or XP | Debian/Ubuntu | Redhat/Fedora | Project Source
---
BitLib 1.4 | maintenance update | AF22A
2010-06-23
This update fixes a few bugs when used with older model BitScopes.
If you've not encountered any problems you probably don't need to upgrade.
---
BitLib 1.4 | maintenance update | AE19B
2010-06-07
This maintenance update fixes a bug in the waveform generator API.
If you are using the waveform generator we recommend you upgrade.
---
BitLib 1.4 | Unified Cross-Platform Release
2010-05-05
This major update is the first unified library release, compatible with all recent BitScope models.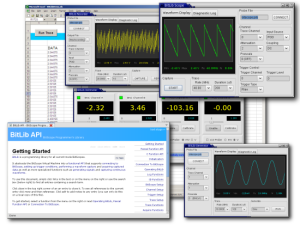 It is cross-platform running on Windows 8, 7, Vista and XP and popular Linux distributions including Debian, Ubuntu, Fedora, RedHat, SuSe and Mandrake.
The API is fully documented and we've added two new example applications:
to demonstrate new waveform generation and data acquisition features of the library.
The existing applications have also been updated and source for all of them is available for download free of charge.
BitLib comprises a shared library, C/C++ and FPC/Delphi language bindings and documentation. Other languages and platforms are available upon request.
---
BitLib 1.3 | BS325 Release | CD-ROM Only
2009-09-01
This release adds support for features of the new BS325 models.
---
BitLib 1.2 | BS442 Release | CD-ROM Only
2008-03-07
This release supports new features of the BS442N model.
---
BitLib 1.1 | BS100 Release | CD-ROM Only
2007-10-01
This release supports the features of the new BS100U model.
---
BitLib 1.0 | BitScope Application Library
2007-05-20
This is the first production release of the BitScope Application Programming Library.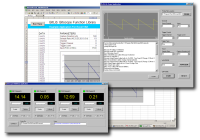 It provides an new API for BitScope channel control, trigger setup, analog & logic signal capture and waveform generation.
This initial release includes three new applications:
These applications are supplied with source code so you can modify or extend them.
Future releases will add to this collection of applications. Please email us at projects with any feedback or bug reports relating to this software. Feel free also to send in any special requests.