The correct appearance of this website is only visible in graphical browsers that support web standards. We try to ensure our content is accessible to any browser but we recommend you upgrade your web browser if you can.
BitScope DSO setup is simple (and usually unecessary)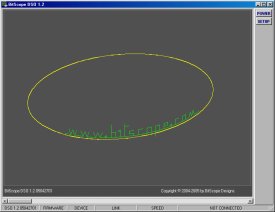 When the DSO first starts up it displays a lissajous figure in the main display and two buttons:
(1) POWER: click to "switch on the DSO".
(2) SETUP: click to open the setup dialog.
DSO supports USB, Ethernet and RS-232 links to BitScope devices and the setup dialog is where you tell the DSO which one to use.
There are built-in defaults which attempt to connect on COM ports from 1 to 9 and also Ethernet (if your PC is network connected).
You only need to run setup if the DSO cannot find your BitScope.
DSO is a test instrument which means most settings are accessed directly on screen or via pop-ups rather than via nested menus or dialog boxes. One exception is the SETUP dialog: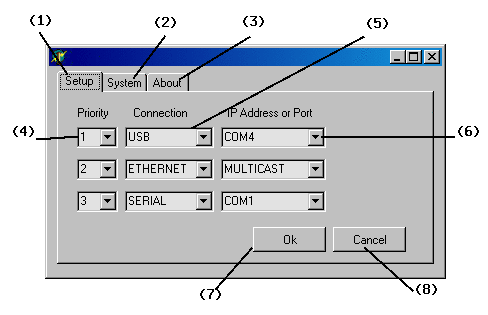 (1) Setup Page: selects the BitScope connection preferences.
(2) System Page: configures system defaults for the DSO (not active in 1.3).
(3) About Page: some information about the DSO and its authors.
(4) Connection Priority: establishes the priority of this connection.
(5) Protocol Type: selects SERIAL, USB or ETHERNET connection methods.
(6) Address or Port: selects serial or USB port or IP connection address. This pop-down menu shows a set of common default values. However if the value required is not shown you can simply type it in (eg, COM10).
(7) Accept Change: accepts changes and saves them to the probe file.
(8) Cancel Change: close the setup dialog without making any changes.
The setup lists three configurable connection methods.
The DSO attempts connects to your BitScope using one of these methods.
To do this, it searches the list in decending priority order until it finds the connected BitScope.
Note: the number of connection specifications can in fact be more than three but to do this you must manually edit the DSO's probe file.

When the connection is made, it is indicated at the bottom of the DSO as this example shows.
Here a BS310U identified as PF32YI03 has been located at COM Port 3 (in this case, a USB COM Port).
If the UDP/IP protocol was used to connect with a Network BitScope it would report the IP address (or domain name) of the BitScope to which it is connected.
If no BitScope can be found the DSO defaults to OFFLINE REPLAY MODE which means the DSO is running but is not connected. In this case a file dialog appears asking for a DDR file to play.
About the Lissajous display...
The lissajous display shown when the DSO is running but not "powered on" updates at about 5 fps and provides a handy performance test of your PC. If the lissajous updates much slower than this, or if your PC becomes sluggish when it is running, your PC or graphics card may need some tweaking to work well with DSO.
For a bit of fun, try moving the slider at the bottom of the screen :-)