Mixed Signal Scopes & Analyzers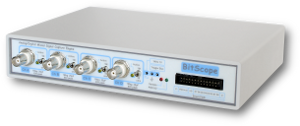 BitScope PC Based Mixed Signal Oscilloscopes and Logic Analyzers are a popular choice for engineers and technicians working in manufacturing, testing, service and equipment repair.
Connected via USB, Ethernet or RS-232, they are widely used in R&D in applications ranging from fusion research to embedded systems design, process monitoring, undergraduate university labs and customized data acquisition. All BitScopes are housed in robust extruded aluminium desktop cases offering full EMI protection and some are also available in 19' rack-mount.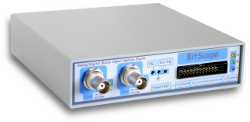 Whether it's the rough and tumble of a typical student lab or hard at work in a heavy engineering workshop, BitScopes are built to take the hard knocks.
BitScopes are an investment built to last a lifetime too. There are units first deployed more than 12 years ago still in active service and all 22 models since the award winning original are compatible with the latest software.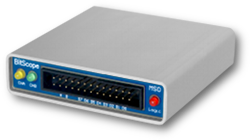 Key to BitScope is the virtual machine at the heart of every model. It means they can be upgraded and extended without the need for firmware upgrades or hardware replacement and software written for one model will work with any other with very few modifications.
This makes them ideal for use in custom data acquisition applications or with open source software. Whether you need a PC based oscilloscope, USB logic analyzer, waveform generator, spectrum analyzer or industrial strength network connected acquisition system, BitScope has a solution for you.