The BitScope Raspberry Pi Oscilloscope
BitScope Mixed Signal Oscilloscopes and Analyzers are now fully compatible with Raspberry Pi.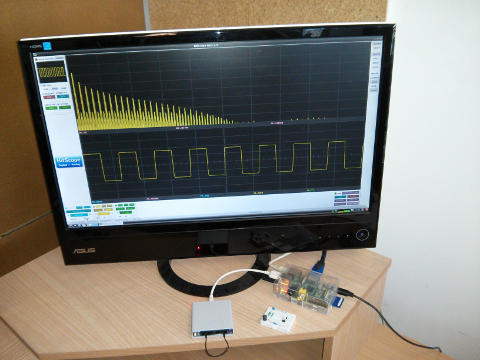 Connect any BitScope via USB or Ethernet with Raspberry Pi to build a complete stand-alone mixed signal oscilloscope, logic analyzer, spectrum analyzer and waveform generator.
Tiny, just like Pi
The perfect companion for Raspberry Pi is BitScope 10 shown here. This tiny BitScope is USB powered (by the Raspberry Pi) and can be used with BitScope DSO which runs directly on the Raspberry Pi.
Very Low Power
Like the Pi itself, BitScope 10 is very low power. Unlike a lot of other gear, this means you don't need a USB hub. Simply connect directly to the Raspberry Pi, add a monitor and mouse, and you're good to go.
Programmable Test, Measurement & Data Acquisition
Regardless of which BitScope you choose, the new BitScope Library is also available making it easy to create your own embedded test, measurement or data acquisition applications using BitScope and Raspberry Pi. Program in C/C++, Python or Pascal using an easy to use programming API. Here is a simple C waveform capture example and another in python that reports on BitScope capabilities. High speed mixed signal data acquisition is now a reality on Raspberry Pi.
Learn More about BitScope on Raspberry Pi
The response to this page as been huge, so we've set up the Raspberry Blog for news and updates for all things BitScope on Raspberry Pi. BitScope works very well with Raspberry Pi already but we've got a lot more planned!